A PICTURESQUE BED AND BREAKFAST IN DUNVEGAN ON THE ISLE OF SKYE.
MINNIE'S ROOMS
The perfect location for exploring the Isle of Skye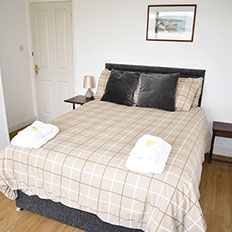 Minnies rooms is a picturesque bed and breakfast located in Dunvegan on the Isle of Skye in Scotland featuring a triple room and double room with sea views and reverse facing double room which has a en suite bathroom. The property also has a spacious traditional dining area which offers guests spectacular views of Loch Dunvegan with the famous MacLeods tables in the background.
INCLUSIVE BREAKFAST
The perfect start to the day
Breakfast is included with the room price. We serve a simple breakfast but plenty to sustain you for a day hiking in the beautiful surroundings. We are happy to provide breakfast for special diets. With a set of binoculars at the breakfast table you can enjoy a leisurely breakfast while watching the sea birds.